New England WaterSports
447 Washington St.
Pembroke, Massachusetts, US, 02359
Tel:877-304-9862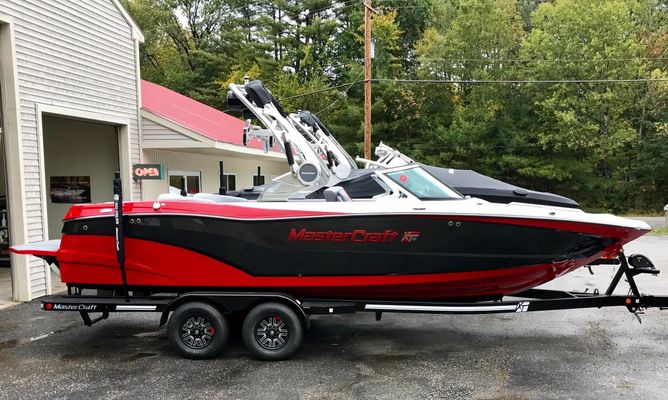 2018 Mastercraft XT 23
Pembroke, Massachusetts
Click 'Read More' for Description and equipment list:
XT 23 Surf + Wake + Cruise!
MEET THE XT23: OUR MULTI-SPORT, CATEGORY-CRUSHING CROSSOVER MACHINE Live it up and let it fly in the XT23—built to bring stoke everywhere it goes, whatever it tows. This is the all-new crossover MasterCraft for a lifestyle that knows no limits. Load it up with loved ones and bring your wakeboards, surfboards, skis and whatever else you please. This is where the classic traditional bow meets progressive new 2017 style lines, wrapped around a completely redesigned hull. Make waves with Gen 2 Surf and a substantial 2600 pounds of ballast, then tow it all using the optional new ZFT7 Power Tower. Reliable, rapidly deployed and packed with features like an integrated Bimini top, all-new board racks and gorgeous new speaker cans. Prevailing offshore breeze powered by the next generation of Ilmor engines. For the win, the XT23 features the legendary MasterCraft fit and finish. Plush comfort and a flexible, ultra-functional seating layout with industry-leading storage and the available DockStar Handling System for easier control in tight spaces.
This particular XT 23 carries the following optional equipment:
-BLUE LIGHTING ACCENT
-VIPER RED HULL
-BLACK HILLSIDE W/MICA ACCENT
-WHIITE/VIPER RED DECK
-PLATINUM + BLACK INTERIOR W/RED ACCENTS
-DECKADENCE FLOORING
-ILMOR 5500 ENGINE SERIES W/1.57:1 POWERSLOT
-MASTERVIEW VR 100 MIRROR
-BTS WINDSHIELD
-BOAT COVER - BLACK / UNDER TOWER
-BIMIN COVER - BLACK
-GEN 2 SURF SYSTEM W/ S2S SWITCHING
-DOCKSTAR HANDLING SYSTEM
-ZFT-4 FOLDING TOWER W/SWIVELING/CLAMPING RACKS - 1 WAKE - 1 SURF RACK
-2 KLIPSCH AUDIO TOWER SPEAKERS - BLACK
-TRANSOM REAR FACING LED LIGHTS
-DOME LIGHT
-DOCKING LIGHTS
-PREMIUM AUDIO + DUAL TOUCHSCREEN PACKAGE
-STEREO TRANSOM REMOTE
-HEATER
-REMOVABLE SKI PYLON
-FIBERGLASS SWIM PLATFORM W/PAD- VIPER RED
-HEATED SEATS (OBSERVER + HELM)
-HYDRAULIC SEAT LIFT - DRIVER
-CONVERTIBLE CENTER REAR SEAT W/4 ADDITIONAL CUPHOLDERS + FOOTREST
-TRANSOM WALK-THRU
-TRANSOM SCRATCH PROTECTION
-FIRE EXTINGUISHER
-AUTO FIRE EXTINGUISHER

-TANDEM AXLE XT23 TRAILER - BLACK W/BLACK ALUMINUM WHEELS, TRANSOM TIE DOWNS, RAMP & CLAMP FEATURE.
Thank you for visiting New England WaterSports online!
Dislaimer:
*Price, if shown, does not include government fees, taxes, dealer vehicle freight/preparation, dealer document preparation charges or any finance charges (if applicable). Specifications and other information are subject to change without notice. No representation of accuracy is made. Final actual sales price will vary depending on options or accessories selected. NOTE: Vehicles with a price of "Request a Quote" are always included in a $0 search, regardless of actual value
Dislaimer:
*Price, if shown, does not include government fees, taxes, dealer vehicle freight/preparation, dealer document preparation charges or any finance charges (if applicable). Specifications and other information are subject to change without notice. No representation of accuracy is made. Final actual sales price will vary depending on options or accessories selected. NOTE: Vehicles with a price of "Request a Quote" are always included in a $0 search, regardless of actual value
Dislaimer:
*Price, if shown, does not include government fees, taxes, dealer vehicle freight/preparation, dealer document preparation charges or any finance charges (if applicable). Specifications and other information are subject to change without notice. No representation of accuracy is made. Final actual sales price will vary depending on options or accessories selected. NOTE: Vehicles with a price of "Request a Quote" are always included in a $0 search, regardless of actual value